FREE SHIPPING ON ORDERS OVER $200
Login
Log in if you have an account
Dont have an account? Register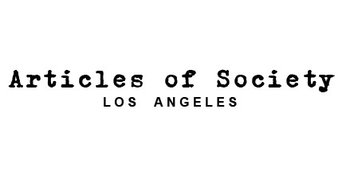 Articles of Society
Revolutionary to its kind, Articles of Society has adopted a unique role in the premium denim industry as the first brand to offer consumers superior jeans at an affordable price.  The company launched in 2012 after recognizing this missing element in the denim market and refusing to compromise quality for value.
With it's headquarters based in downtown Los Angeles, Articles of Society uses the same high-quality fabrics, fit standards and craftsmanship as its contenders, whose jeans retail for up to four times the AOS price.  As veterans in the denim industry with prior ties to Hudson, Antik Denim, Theory and Vince, the AOS team brings a wealth of insider knowledge and practicality to the business, lending the company a significant edge over its industry peers.
AOS made its first statement with the Mya Skinny; an original fit whose popularity inspired multiple styles and growth within the collection.  Symbolic to the brand is the signature gel A embossed into the back pocket of every AOS jean – a visual testament to the company's mission to offer classic, quality designs that are always on trend.
Since its launch, Articles of Society has taken the denim market by storm, selling at major retail locations across the world and garnering the attention of industry professionals and experts.   In pursuit of cultivating a unique and influential brand, AOS has committed itself to transforming the denim industry from the inside-out. The Brand satisfies a fashionable, budget-conscious generation with denim that is cutting-edge, versatile, and above all iconic.